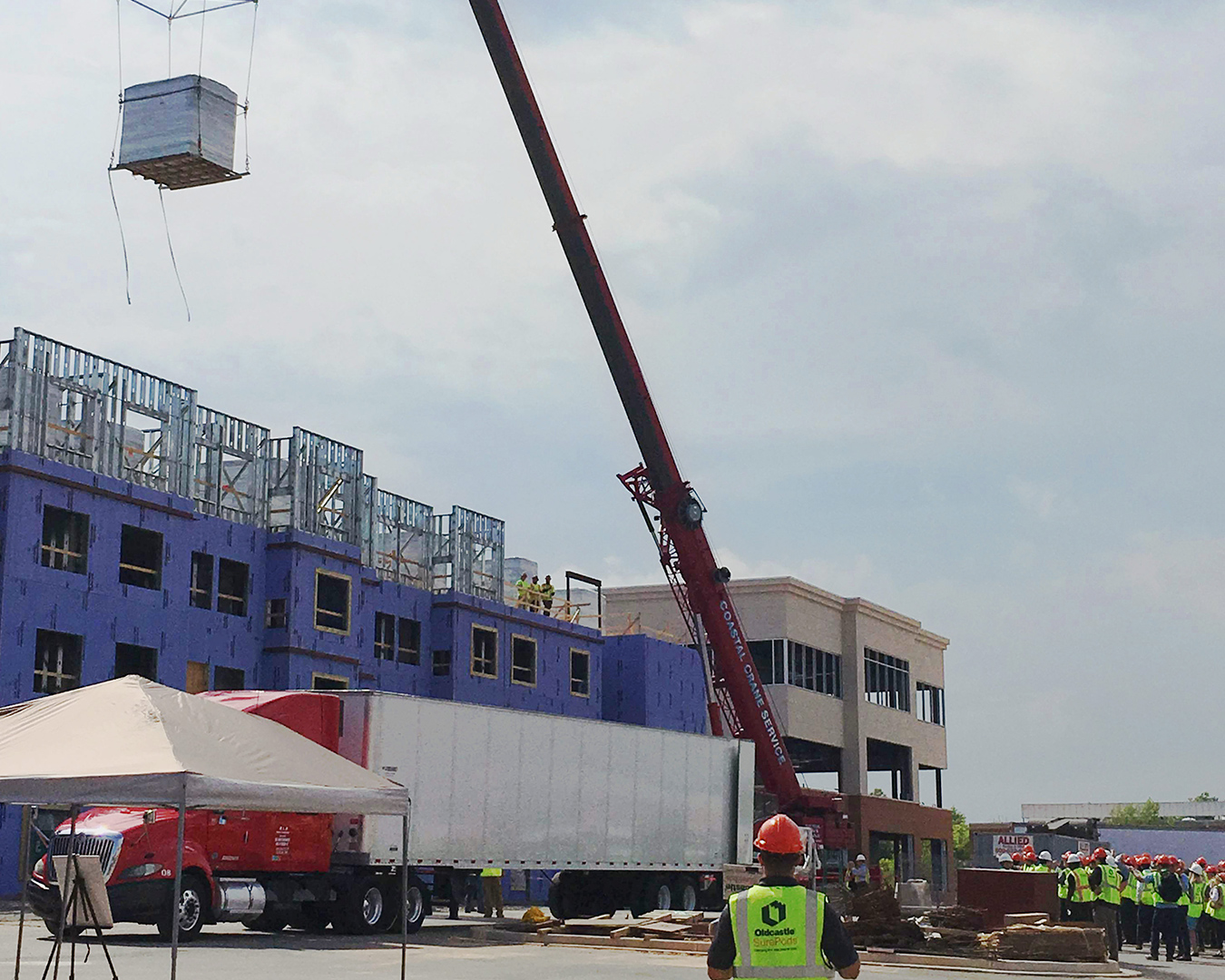 Plamondon Hospitality Partners utilizes cutting-edge modular construction to bring new hotel to Fulton, Md.
JUN 4, 2018
Nearly 200 industry leaders, including developers, contractors and architects, geared with hard hats, watch as bathroom pods are stacked into place at the Residence Inn by Marriott Columbia/Fulton construction site.
FREDERICK, Md. (June 4, 2018) — Plamondon Hospitality Partners is continuing construction on their newest property, the Residence Inn by Marriott Columbia/Fulton in Fulton, Md., with innovative modular construction of the property's guest bathrooms. Unlike traditional construction methods, modular construction avoids time-consuming challenges that can delay the project, such as skilled labor shortages and poor weather. This process also allows more opportunities for inspection throughout the entire manufacturing process, resulting in a higher quality end product.
For this property, Oldcastle® SurePods™ of Orlando, Fl., manufactured hotel bathrooms away from the construction site in a climate-controlled factory. After they were complete, the prefabricated units were transported to the hotel site, where the hotel's foundation was already built. The units were stacked into place by a crane, at which point workers began the process of completing the installation on-site, including the connections for electrical, plumbing and other finishing work.
Marriott International opened its first hotel using modular construction in Folsom, Calif. Since the success of that initial hotel, they have encouraged a select group of owners, including Plamondon Hospitality Partners, to utilize the construction method. Marriott and Oldcastle hosted an event on May 10, 2018 at the construction sight of the Residence Inn by Marriott Columbia/Fulton to present the modular installation to attendees from across the country.
"Marriott is known for innovation, so we have no doubt that the modular construction process will open new opportunities within the hospitality industry. We're excited to be implementing this construction process into our newest property in Maryland, after seeing Marriott's success with the build in California," said Peter Plamondon, Jr., co-president of Plamondon Hospitality Partners.
Plamondon Hospitality Partners broke ground on this property in November 2017 and expects to open later this year. The new extended stay hotel is located within Fulton's Maple Lawn community, and will bring 103 rooms to the area. The hotel will be LEED certified, and will feature car charging stations, an indoor pool, a state-of-the-art fitness room, meeting space and an outdoor patio with fire pits. The Residence Inn will also have meeting space that will accommodate up to 100 guests.
Plamondon Hospitality Partners is a hotel management and business development company located in Frederick, Maryland. Their current portfolio includes several Marriott and Hilton properties across three states.